Recipe of the week Salmon Coubillac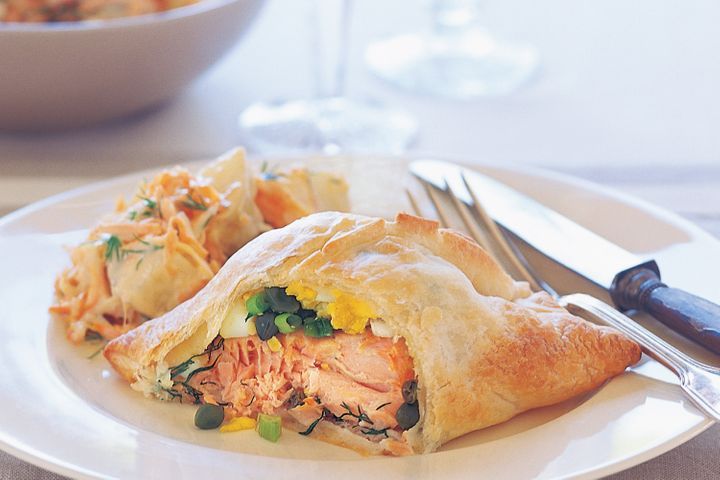 A great center piece for any dinner or buffet and a very well-behaved dish. Serve with a couple of different salads et voila!
Ingredients:
3 eggs hardboiled
50g butter
700g skinless, boneless salmon fillets cut into finger-thick slices
500g Puff Pastry
1 egg, beaten, for glazing
1 kg of Fresh Spinach Leaves
1 large onion, finely chopped
200g basmati rice
1 bay leaf
400ml fish stock or water
zest 1 lemon, juice ½
large bunch of dill

Method:
First, cook the eggs till hardboiled, drain, cool, peel & chop, and set aside.
Pan-fry the salmon fillets for 1 minute on each side but not cooked through.  Set aside.
Now cook the Basmati rice. Melt butter, add onion, stir for a couple of minutes then add rice, with bay leaf, cover with fish stock or water, bring to a boil, then lower the heat to its lowest setting and continue to cook for 10 mins. Turn off the heat and leave covered for 10 mins, then stir through the lemon zest and juice. Set aside to cool. Once cool add chopped dill to the rice.  Set aside till needed.
To assemble the pie, roll out one of the pieces of pastry to a rectangle, then pack half the rice along the middle of the pastry, leaving a good 5cm border at the edges.  Lay salmon over rice, then chopped hard-boiled eggs, then a layer of fresh raw spinach leaves, then another layer of rice.  Top with another layer of fresh spinach leaves and the top layer of puff pastry.  Trim edges, and seal sides with the back of a fork. Brush the pie all over with a beaten egg.
The uncooked pie can now be chilled, on the baking sheet, for a day or frozen for up to 2 months.
To cook, heat oven to 220C/200C fan/ gas 7. Bake for 20 mins, then reduce the heat to 200C/180C fan/gas 6 and continue to cook for 20 mins until golden brown. Remove from oven, then leave to rest for 10 mins, then serve in thick slices with a bowl of Dill Crème Fraiche.
Serve at room temperature or cold. Delicious! 
You might also want to read
We recently worked with Adams & Adams at MIPIM 2023
Read More »
"The promenade of La Croisette is one of the most
Read More »
The Port, Monaco. Port. Probably the liveliest neighborhood, the Harbor
Read More »