Is it a Swimming Pool or a Dance Floor with Adams & Adams Catering?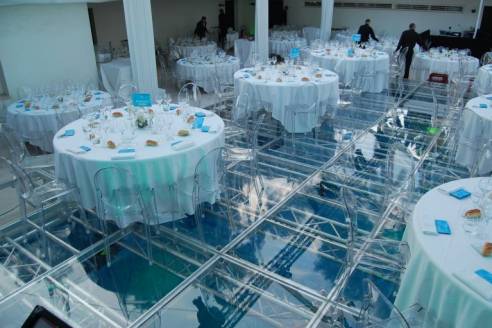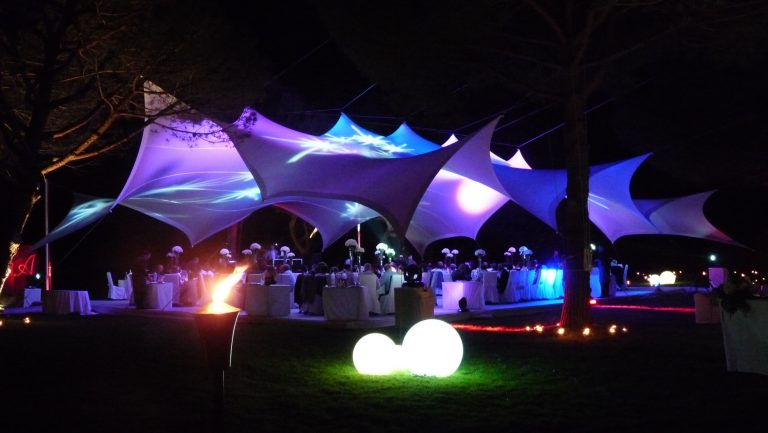 Here in the South of France, we are lucky to enjoy over 300 days of sunshine each year and outdoor events do not hold the same fear of bad weather as holding an event say in London will do. But if you are planning a wedding reception for 200 guests in April and the forecast is for April showers then we know just the thing to keep you warm and dry throughout the event.
In fact, it's not always the rain that we are worried about when we are creating your event, in many cases we use a marquee or cover to create some shade for the guests and the food. In the height of the summer months setting out the buffet table in your garden is a great idea but not if the desserts are melting before your eyes. And what about turning the pool into a dance floor? Well, this is the French Riviera and everything is possible. If you want your event to have a real 'WOW' factor then covering the pool with a transparent cover and using it as a dance floor, complete with underlighting, of course, is guaranteed to have your guests up and dancing the night away.

At Adams & Adams, we only work with a handpicked selection of partners and for all things marquee or covered pool then we work with Plein Sud Events. They offer an amazing range of solutions for keeping your event warm, and cool or indeed creating a wow factor. Here are a few of the events where Plein Sud has designed the covering, including that all-important pool/dance floor idea.
So even if you're booking your event here in the South of France with Adams & Adams catering then we may well recommend that we create the perfect covered area keeping your guests cool and your event perfect in every detail.
You might also want to read
From September 27th to 30th, the Principality of Monaco hosted
Read More »
The MIPCOM Cannes event is an esteemed gathering of creative
Read More »
Welcome to Adams & Adams, we are a renowned company
Read More »